Building a Pokémon TCG deck is no easy task, even when you know what Pokémon you want to build around. It's all about making a lot of small decisions about which Pokémon, Trainer, and Energy cards will help you the most until you have a 60-card deck that's ready for battle. But not everyone makes the same decisions along the way, even among Pokémon TCG players with years of experience.
We asked three of our most knowledgeable card players—2019 World Championships Top 4 player Tord Reklev, Play! Pokémon commentator Ellis Longhurst, and judge Christopher Schemanske—to talk us through how they would design a deck. We gave them one card—Charizard from the new Sword & Shield—Vivid Voltage expansion—and asked them to design a deck around it. Even though they all began from the same starting point, their approaches varied, resulting in three interesting—and quite different—decks.
Here are the basics: Charizard is a Stage 2 Fire-type Pokémon with 170 HP. Its Battle Sense Ability lets you look at the top three cards of your deck, put one of them into your hand, and discard the other two. Charizard's Royal Blaze attack does 100 damage for two Fire Energy, plus 50 more for each Leon Supporter card in your discard pile.
Read on to learn straight from these experts what decisions they made to make an awesome Charizard deck of their own!
Christopher Schemanske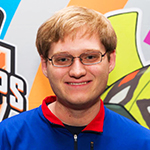 Charizard is an exciting opportunity for deck building with a high-powered attack and an intriguing, but risky, Ability in Royal Blaze. It presents some interesting challenges to work through. Charizard's Ability alone could fuel a "Mad Party" strategy—but I'll stick to attacking with Charizard here.
When building a deck, space efficiency is often the hallmark of a successful strategy. When it comes to Stage 2 Pokémon, this can become challenging quite quickly as you need to include more Pokémon cards than in a deck built around a Basic Pokémon. Charizard is extra challenging, with four Leon obviously being necessary. Add in four Charmander, a Charmeleon or two, three or four Charizard, four Leon, and four Rare Candy—a necessity—and we've already filled a quarter of the deck! Careful choices are required from here on.
Energy Cards
9

Fire Energy
Trainer Cards
4

Leon

4

Rosa

2

Welder

1

Boss's Orders (Giovanni)

1

Giant Hearth

4

Quick Ball

4

Rare Candy

3

Evolution Incense

3

Pokégear 3.0

2

Fire Crystal

2

Ordinary Rod

2

Switch