Three experts try building decks around the high-potential Happiness Pokémon.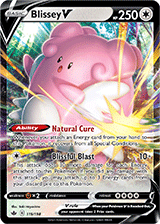 The Sword & Shield—Chilling Reign expansion is packed with potent cards you can build whole decks around. Among these, Blissey V stands out as a Pokémon with massive potential, but not necessarily one with the clearest path to unlocking it. So, we asked three Pokémon experts for their thoughts , and their answers are fascinating. Their widely diverse approaches show just how creative you can be when designing a deck in in the Pokémon TCG.
Read on to see three ways to approach building a solid deck around Blissey V!
Blissey V reminds me of a past favorite of mine, Malamar-EX, which worked on the same general principle as Blissey V: load up a lot of Energy cards and hit for a lot of damage. Malamar-EX had the downside of requiring coin flips, which makes Blissey V a lot more reliable to work with.
Because of its Colorless typing, there are many different options to get rolling, but I always look for Energy Acceleration as a key part of most decks. While Blissey V is distinct in terms of being able to self-accelerate, we probably don't want to use Blissful Blast for 40 or 70 damage more than once a game, so I want an engine that can provide at least some extra Energy attachments for Blissey V.
In particular, with a strategy like this, I'd like a certain combination of Energy acceleration and Energy conservation to get and keep it on the board. Exp. Share came to mind as a good way to conserve Energy attachments in play, but how would we move Energy to Blissey V after using Exp. Share? An idea was born…
Energy Cards
9

Metal Energy

3

Aurora Energy
Trainer Cards
4

Professor's Research (Professor Juniper)

3

Boss's Orders (Giovanni)

3

Marnie

2

Mallow & Lana

2

Chaotic Swell

4

Metal Saucer

4

Quick Ball

3

Exp. Share

3

Switch

2

Cape of Toughness

2

Pokémon Communication