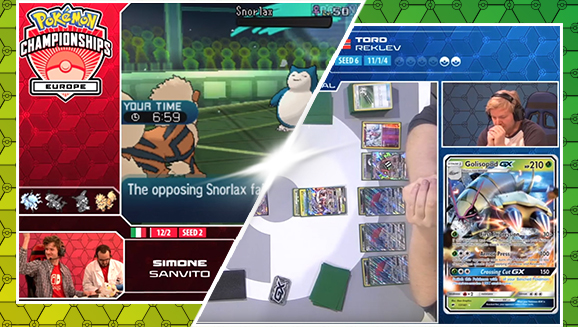 There's nothing quite like the battles at the highest-stake tournaments in the Pokémon Championship Series. You can watch several of these incredible events live by tuning into the official streams, even if you can't make it to the events in person. Matches are presented with expert commentary during each round of the tournament, so you can follow the tournament as it happens and witness the preeminent strategies in the world of Pokémon.
Pokémon TCG and Video Game Championships (using Pokémon Ultra Sun and Pokémon Ultra Moon) take place at each large event. Streams of both events run simultaneously during the first days of competition and ordinarily focus on the Masters Division (the oldest competitors). The championship matches in each game and age division are typically played live on Sunday's stream. Pokkén Tournament DX is also featured at some events, and its matches normally occur on a separate channel.
You can watch the game of your choice by visiting the channels below while a tournament is taking place. Don't forget to give the channels a follow so you know when an event is occurring!
All: Twitch.tv/Pokemon
TCG: Twitch.tv/PokemonTCG
VGC: Twitch.tv/PokemonVGC
Pokkén Tournament DX: Twitch.tv/PokkenTournament